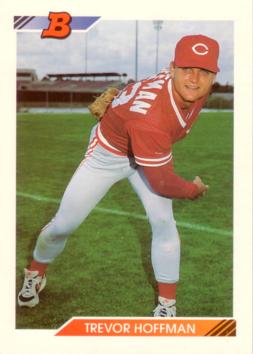 The save rule may be easily haXX0red, reliever usage patterns may have been forever lobotomized by Tony LaRussa's insistence on 6.02 x 10^23 pitching changes per inning, and the "reliever walking in to heavy metal" instead of riding a little baseball-shaped cart shtick may have grown jejeune, but even so, what
Trevor Hoffman
has accomplished is mighty impressive.
So congratulations, Mr. Hoffman, on
breaking the all-time saves record
. In a role that's seen a lot of supernovae (anyone seen
Bobby Thigpen
lately?), twelve-plus years of nearly uninterrupted excellence is pretty impressive. Not bad for a guy who was drafted as a shortstop, left exposed in an expansion draft, and, according to one methodology, was at one point most similar to
Rich Loiselle
.
They're still figuring out what makes a relief pitcher a Hall of Famer, but based on Hoffman's enduring excellence as compared to his peers, I'd say he makes at least a reasonably compelling case for inclusion. That is, if he ever actually retires. One suspects he'll be able to keep throwing that changeup until some time in the mid 2030's.